Finally, a question for you…………. Who is this famous guy?
The Following Photos are added in response to the suggestions made by visitors
The Vietnam War has probably produced the photos with the most impact on modern society. One photo in particular stands out: the photo that became known as Napalm girl, taken by Huynh Cong 'Nick' Ut at the village of Trang Bang, Vietnam, on June 8, 1972.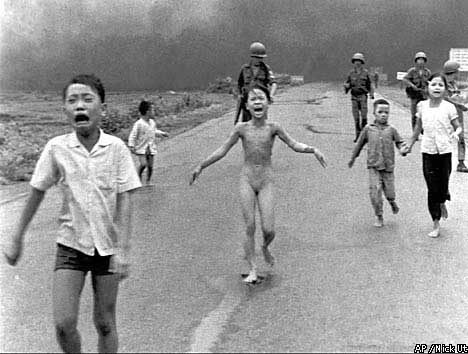 The photo has had tremendous impact on Western and American society ever since it was published in 1972. It won several awards, including the 1973 Pulitzer Prize. However, the story behind the photo, the girl in the photo and the photographer haven't been told very often. Sofar, the best article on the photo and its history is the article from 2000 The survivor: Phan Thi Kim Phuc and the photographer Nick Ut. The story relates Nick Ut's day when he took the photo, the incident itself and the aftermath of the incident. The article also shows photos that place the Napalm girl photo into context. The accompanying interviews with Nick Ut and Kim Phuc further place the photo in a historical context.
Tank Man, or the Unknown Rebel, is the nickname of an anonymous man who became internationally famous when he was videotaped and photographed during the Tiananmen Square protests on 5 June 1989. Several photographs were taken of the man, who stood in front of a column of Chinese Type 59 tanks, preventing their advance. The most widely reproduced version of the photograph was taken by Jeff Widener (Associated Press), from the sixth floor of the Beijing Hotel, about half a mile (800 m) away, through a 400 mm lens.

Execution of a Viet Cong Guerrilla 1968

With North Vietnam's Tet Offensive beginning, Nguyen Ngoc Loan, South Vietnam's national police chief, was doing all he could to keep Viet Cong guerrillas from Saigon. As Loan executed a prisoner who was said to be a Viet Cong captain, AP photographer Eddie Adams opened the shutter. Adams won a Pulitzer Prize for a picture that, as much as any, turned public opinion against the war. Adams felt that many misinterpreted the scene, and when told in 1998 that the immigrant Loan had died of cancer at his home in Burke, Va., he said, "The guy was a hero. America should be crying. I just hate to see him go this way, without people knowing anything about him."